Return to Album Page
LoTR
A range of scenery that can be used to help represent battles from Middle-Earth.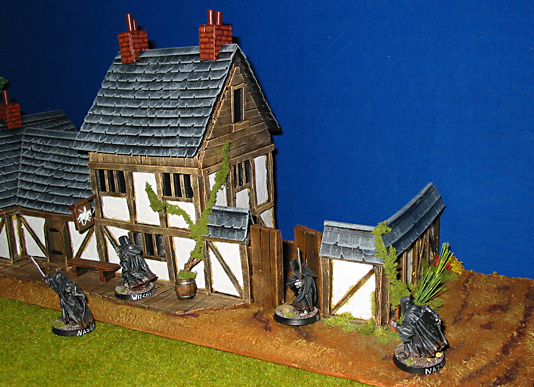 At the Sign of The Prancing Pony
The Fellowship of the Ring; Book 1, Chapter IX
Close up shot of the front left side of the complex.
Substantial inn complex including courtyard, boundary wall and multiple buildings in 25-30mm scale. Extra detailing includes; door handles and hinges, bench, opening and removable gates, removable roofs and the inn sign swings from side to side!
Dimensions are:      length 18" (45cm), width 6" (15cm), height 6" (15cm).
Price:     28mm figures = £70
Return to Album Page

---